When I first saw sneaker wedges I was like, "whaaaa?!" And now… they are kinda growing on me. I have been scouring the internet for the right pair at the right price. My husband keeps asking me. "What are you going to wear those with?" He makes a good point, so I have been doing my research. How do you wear sneaker wedges right?
Lots and Lots of Black with Sneaker Wedges
(Source)
I am seeing tons of black sneaker wedges being worn with lots of black. I love the way this blogger lightens it up a little with a light cardi. This outfit it simple and edgy.
(Source unknown, if you know it, tell me please!)
White Pants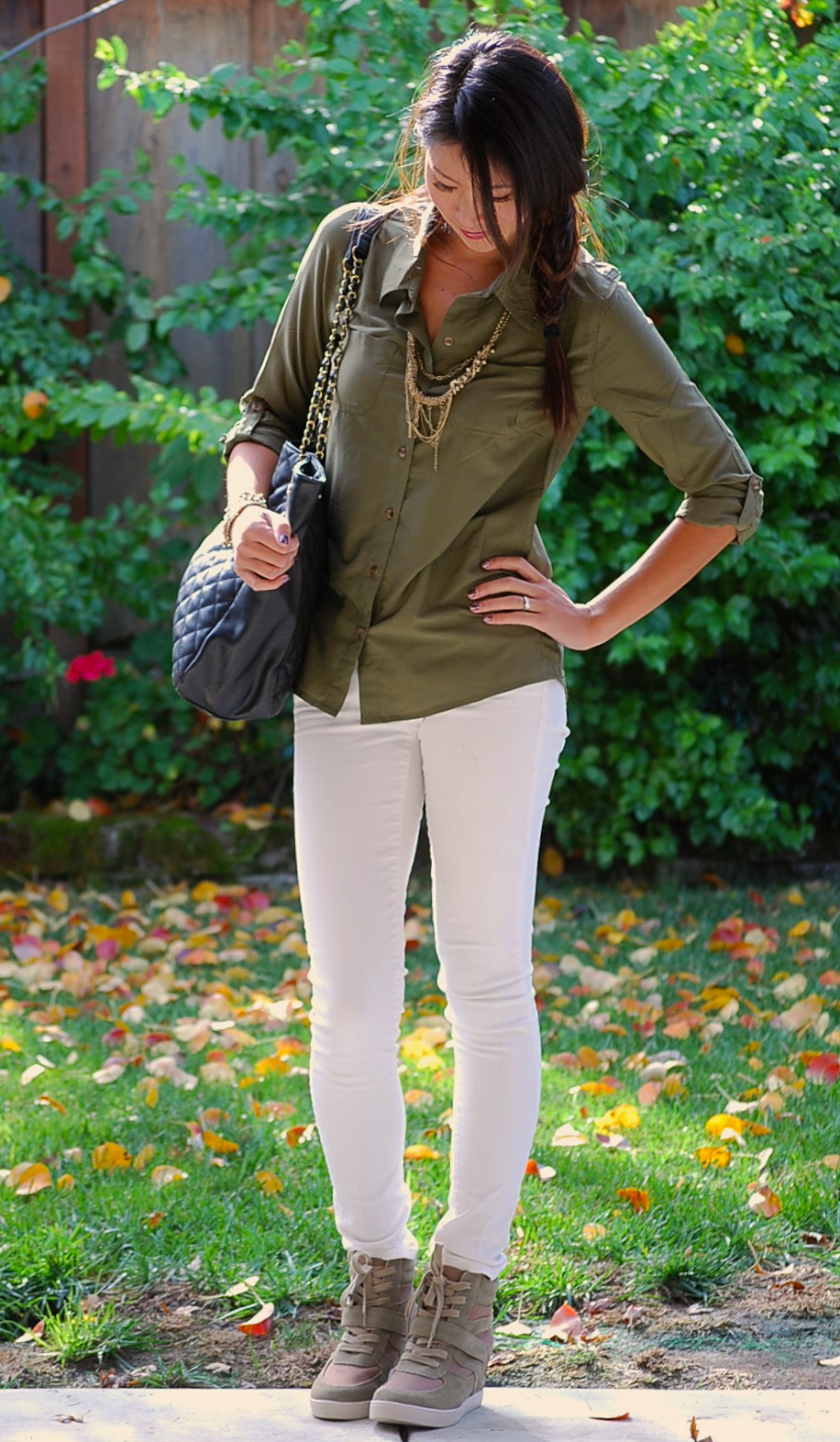 (Source)
I love this outfit. It makes me want to rush out and buy that color sneaker wedges. What color is that anyways? Regardless, I am loving them with the white jeans and olive top and gold jewelry. So pretty.
Colored Skinnies
(Source)
Last fall I went a little with the colored skinny jeans. I don't think any one human really needs as many colored jeans as I have, but since I've got them (in every color) I am always looking for a new way to wear them. I love the black sneaker wedge paired with green skinnies and leopard scarf,
(Source)
ALTHOUGH… I don't have olive skinnies yet 🙂
Leather Pants and Sneaker Wedges
(Source)
There is almost no style that I am afraid to try… except leather pants. Every time I see someone wearing them or buying them I am jealous. I love the way they look, but I am just not ready to do it myself. I am noticing a major pairing between leather pants and sneaker wedges. I love love this look.
Printed Pants and Sneaker Wedges
(Source Unknown! Please tell me if you know the source)
I love printed pants! The are so fun and bold and an awesome way to wear sneaker wedges!
Skirts and Sneaker Wedges
(Source)
While browsing around, I have seen the sneaker wedge/skirt combo done WRONG. Like, way wrong. Don't do it wrong (frumpy). Do it right! Dress it up, make it cute!
How do you like to wear sneaker wedges?
(featured image courtesy of Aldoshoes.com)
Like what you see? Tell your friends!