I know I am not the only one asking that question. I'm sure many stylists and professionals have their own opinions on the answer to this question, but I am going to give you the answer my stylist and good friend gave me.
It depends!
If your hair is not color treated and is generally healthy, you can probably get away with using drugstore shampoo and condition. Just beware of sulfates! Sulfates are the ingredients in traditional shampoos that make them nice and lathery, but they will do nothing but cause frizziness and damage. So if you are going the drugstore route, make sure to read the labels to make sure it is sulfate free and you should be just fine.
Then there is the category of people I fall into. I have color treated hair and I am not someone who can get away with using drugstore shampoos. Traditional drugstore products of the color you have invested in. Take care of your investment (hair color isn't cheap!) and use the right products. I started using professional shampoos and conditioners only in the last year and have actually seen a really big difference. My hair has become much softer, healthier and I need trims much less often! My hair needs the extra love and moisture that professional shampoo provides. Most recently I have been using Redken Extreme shampoo and conditioner and have been really happy with the results.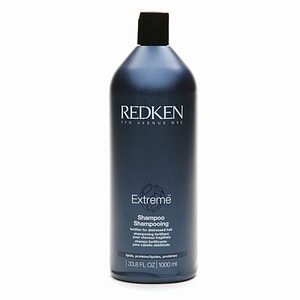 Now, as I have said before and I will say it again, I am not an expert! But I did get my information for this post from an expert I really trust.
So tell me, have you found drugstore or professional shampoos and conditioners that have worked great for your hair, color-treated or not?
I want to hear from you!