I remember my first attempts at using self tanners as a teenager. It was not pretty. After those failed attempts I didn't try again until much later when I had a co-worker who was always beautifully bronzed from at-home self tanners! I realized that there was a lot I had been doing wrong (and I think products have improved) that was leading to my splotchy orange tan. Self tanning can be a little scary, but when you get it right it can be pretty fantastic!
1. Pick your Product
There are a TON of self tanning products out there, I haven't really found anything that I hate. I think if you are taking the time to apply it properly, Most products will give you a nice tan.
Here are a few of my personal favorites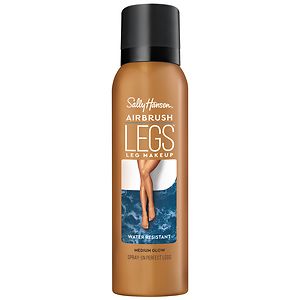 I love to go get a spray tan done, but it's expensive! The Sally Hansen Airbrush Legs tanner is a cheap easy way to give yourself a spray tan at home!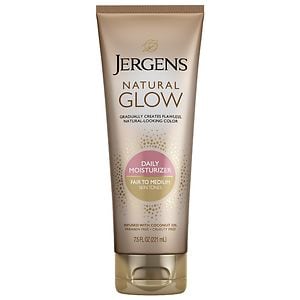 I am a fan of the gradual tanners. You can control how dark you are getting by applying it more or less often, and it's pretty easy to avoid unsightly mistakes.
Tanning towels are spendy, but the little towelettes are easy to use and make it easy to avoid mistakes.
2. Get Clean
Before you get my self-tan on, you gotta make sure you are clean.  Take a bath and shower you make sure you have a nice clean skin ready for application. I always shave before applying self tanner.
3. Exfoliate
If you really want your tanner to last and go on nice and evenly, take some time to exfoliate with a gentle scrub while you are in the shower.
4. Moisturize
Not moisturizing was absolutely what I was doing wrong when my self tanner was looking so awful, especially around knees, ankles and elbows. You want to make sure that self tanner isn't the only moisturizing hitting those dry spots or else it will absorb like crazy and be splotchy.
5. Lay it on!
Now you are ready to get your tan on! If you are really concerned about orange hands, wear some latex gloves. I find just washing them off immediately after does the trick fine (depending on your tanner). Make sure to put it on evenly, in a circular motion. If it's taking a while, wash your hands every 5 minutes (if you aren't wearing gloves) so the tanner doesn't turn you orange.  Proceed with caution when it comes to your face and neck because those areas will take the tanner easily. Don't forget the ears and back of your neck, you want it to look natural!
6. Moisturize
If you are worried about those dry areas being too dark, apply some lotion to your knees, feet and elbows to help it all blend beautifully!
7. Wait
You have to make sure you have set aside enough time to put your home tanner on correctly. When you have it all on, wait for (ideally) an hour before getting dressed so it doesn't rub off on your clothes.
Like what you see? Tell your friends!