We've all seen this…
And for some of us (me), this is the reality of nail painting. Then you see all the super pretty, super intense nail art all over Pinterest and think, "I will never be able to paint my nails like that." But don't be discouraged, my artistically challenged friends! There are so many options out there for you that DON'T require a ton of skill.
1. Nail Tape Manicures
(Source)
There are a million ideas for nail tape manicures on Pinterest. It doesn't take a ton of skill either! You can buy it here
for $2, Check out 15 Nail Tape Manicures
2. Scotch Tape Manicure
(Source)
Don't want to buy nail tape? No problem, Scotch tape will do the trick too! Check out 10 Fabulous Scotch Tape Manicures
3. Polka Dot Manicures
(Source)
Polka dots are another great option if you want to add some pizzazz to your nails without getting out a paint brush. You can buy dotting pens here
for $2.83. Also, check out 10 Pretty Polka Dot Manicures.
4. Makeup Sponge Manicures
(Source)
These ombre nails done with a makeup sponge are so easy and so pretty. You can do it with as many or as few colors as you want. Anyone can do this!
5. Stamping Kit Manicures
(Source)
I will admit, nail stamping is a little bit tricky. But can you imagine trying to paint a design like that with a paint brush? It would never happen for me, and nail stamping is MUCH easier than that. Plus, you can buy plates with practically any design you can imagine for them. You can buy a nail stamping kit
here for $6.99.
6. French Tip Dip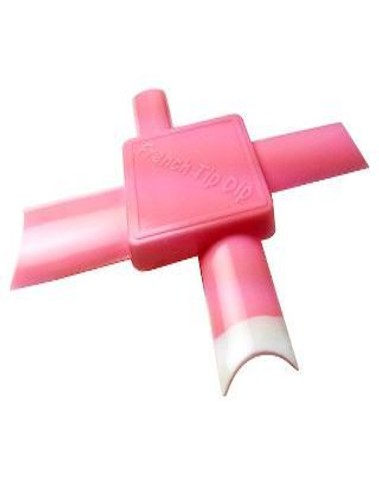 This little gadget will give you the easiest, quickest french manicure ever. You dip the appropriately sized tip in nail polish and then just run it across your finger tip. So smart! You can buy it here.
7. Paper Punch DIY Stencil Manicure
(Source)
You could use this idea with any shape paper punch you want and create super cute, super simple nail stencils using tape.
If all else fails, throw some glitter polish over the top of a complimentary color and you will have an easy-peasy glitter manicure.
(Source)
Like what you see? Tell your friends!