I love acrylic nails, but I definitely cannot afford the price tag that comes along with getting them done and filled every few weeks. Recently I have discovered at home acrylic kits for MUCH cheaper than I thought. I was hesitant, I thought it would be too hard to do myself. I was wrong, it was actually pretty easy and I am pretty happy with the results and I am sure they will just get better with practice! You can't go wrong with any of these kits.
1.  Kiss Lightning Speed Salon Dip Powder Manicure Kit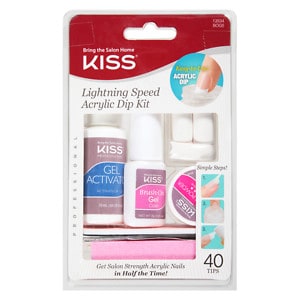 This kit is just about the coolest thing i have ever seen. It's super simple, you put on the tip, then the gel, dip in the powder, another coat of gel, done. This is a super quick and easy kit if you want the acrylic look in a hurry. You can buy it at Drugstore.com for $13.99 or Amazon.com
has it in a 2 pack for $19.45, sweet deal!
2. Kiss Complete Salon Acrylic Kit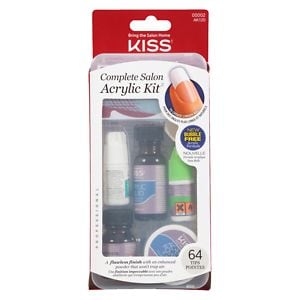 This is the kit you want if you are trying replicate salon acrylics. I expected it to be so much harder than it actually was. The important thing is to keep acrylic off your skin and try to get a nice even finish and buff your nail surface smooth. I like that this kit comes with a ton of different nail sizes so you can find the exact fit for your nails.The more I do it the better I get at it and it's actually pretty fun. I love this kit. You can buy it at Drugstore.com for $18.39.
3. Nailene Ultra Quick Brush-On Gel Kit
My favorite thing about this kit is that that nails it comes with are already pretty short so they wont take a ton of shaping and filing to get them the length you want them. With this kit you don't need to deal with any powders and its all brush on. Plus, you can't beat the price, its $8.99 at Drugstore.com.
All images courtesy of Drugstore.com
Like what you see? Tell your friends!