As my nail polish collection has grown, so has my need to figure out how the heck to store it all. As I have mentioned before, I love looking at my nail polishes. I have an entire collection of colors I love and I want them to be on display for the world (me) to see!
1. DIY Nail Polish Box
(Source)
2. Nail Polish Storage Cubes
(Source)
These storage cubes are actually shoe boxes. I love that they are clear and you can see all the pretty things inside. You can check out the boxes here. Almost any plastic bins will do, just make sure that the bottom is FLAT otherwise nothing will stand up straight and it will drive you crazy.
3. DIY Book Shelf Side Storage
(Source)
I am drooling over this one. I wish I had room for this shelf and all the nail polish to store on it. SO pretty!
4. DIY Shelf
(Source)
Can you believe this shelf is a DIY project?! I LOVE it. I need it. I am trying to convince my husband to make me one this weekend.
5. Acrylic Wall Display
(Source)
I am dreaming of the day I have the wall space for acrylic nail polish displays. If you have the wall space for these babies, you can snag them here.
6. Nail Polish Rolls
(Source)
This is a great way to store if you want your nail polish to portable or not on display. You can buy the here.
7. Storage Case
(Source)
This storage option is serious. You won't have to worry about your polish sliding around or falling down all over the place if you want to take it somewhere with you. It is all packed nicely in its own little spot.
8. Glass Vase
(Source)
This is definitely not the most organized way to store your nail polish, but it would look so pretty on display on your vanity, it seems worth it.
9. IKEA Spice Rack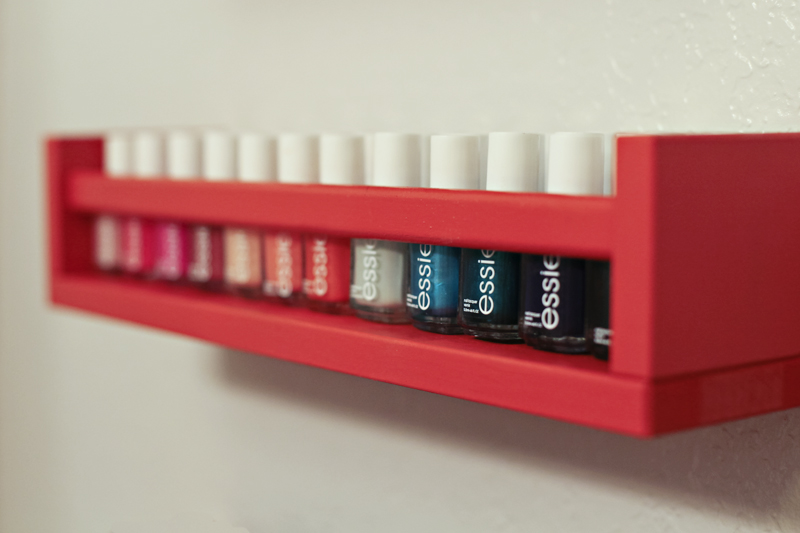 (Source)
This is a cheap option, my favorite! You can buy these spice racks, unpainted, from IKEA for $3.99. Choose your own paint to customize, and done.
10. Magnet Board
(Source)
This is another pretty display to store your nail polish. You could make this as big or as small as you need to store your polish and tools.
Like what you see? Tell your friends!