I just ordered a new (cheap and well-rated!) set of makeup brushes
 and I am so excited to try them out. In the meantime while I wait for them to arrive, I am going to have to figure out where I intend to store them as well as my old brushes (I still like them, I just wanted more!). I sort of love the look of makeup and brushes (tastefully) displayed on a counter top. Here are some of my favorite ideas I have found so far.
1. Mason Jar Wall Storage
(Source)
You could keep you q-tips and what not in them, and/or your makeup brushes!
2. Glass Containers with Fillers
(Source)
You could even use little pearls as your filler bead, that would be pretty! There are a million variations on this particular idea ALL over the internet. Look around!
3. Painted Mason Jars
(Source)
This would be so awesome and easy because you could always mix and match jars and make more of them, as needed.
4. Ball Jar Desk Caddy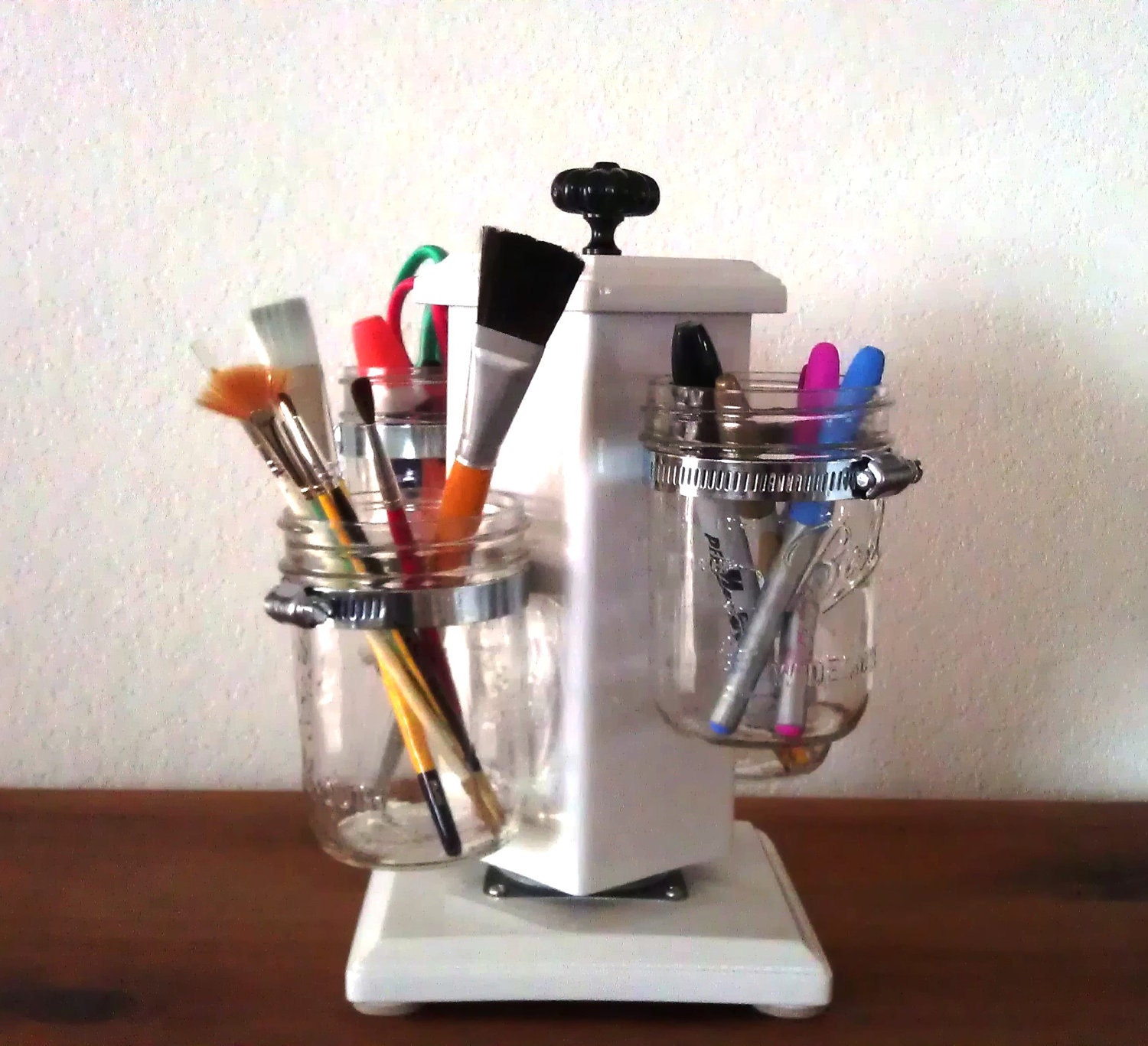 (Source)
Love this idea (don't love the price tag!) but it is pretty awesome and perfect for smaller spaces!
5. Bucket Storage
(Source)
I saw these tiny buckets at the Dollar Spot at Target a few days ago. That's a $1 storage solution!
6. Monogram Mug
(Source)
Not too flashy, super simple, super easy, super cute!
7. Ikea Planter
(Source)
Oh, how I wish I lived close to an Ikea right now! I would walk in and buy this little planter for $1.99 tomorrow!
8. e.l.f. Large Makeup Holder
(Source)
If you aren't looking to DIY anything or search for just the right jar, pen cup, tooth brush container, ect. This elf container might be what you are looking for! I know my husband would prefer I put this on the bathroom counter rather than something sparkly.
9. Roll-Up Pouch
(Source
)
If you aren't looking to put your brushes out on display, this pouch is an easy way to store them nicely. You can buy it here
for $18.00
10. DIY Makeup Brush Box
(Source)
The maker of these cute containers used floral vinyl to cover these wooden boxes, but you could use scrapbook paper or fabric with mod podge to get any look you want.
Like what you see? Tell your friends!